According to the new curriculum, students entering SFC from 2014 will be able to advance to their third year by earning credits from 4 Project English courses.
Expected level:A (TOEFL 425-480), B (481-519), C (520 and above), D (integrated levels)(Level D will be only available when the English Section considers integration essential and will not be available every semester.)
Class Schedule and Credits: Once a week, 90 minutes per period, 2 credits for each class.
These are courses designed to thoroughly refine comprehensive practical English skills and specific practical English skills.
Course Syllabus: Please check the web syllabus on the English Section website.
Classes: Over 60 classes offered each semester.
Next, we will explain a bit more about the Project English courses for your understanding and for comprehension of the course selection. The Project English course basically consists of two courses: content-focused courses and skill-focused courses.
In the content-focused courses, students will present the results from what they have learned through various project activities based on themes they are interested in. Students will be able to explore more content through project activities and use English to find and solve problems.
Specifically, some examples of the variety of opportunities our courses offer include making websites using globally-understood English to introduce Japanese culture, working on entrepreneurship-related projects, exploring area studies, producing newspapers and magazines through cultural and language exchange events with university students from abroad, creating documentary films, working on architecture projects and educational projects, and so on.
In the skill-focused courses, students will be able to develop their communication skills. The aim is to acquire the necessary practical English abilities to work on projects in the content-focused courses. Based on the practical English skills of listening, speaking, reading, and writing, the goal is that students will learn the necessary English skills for researching, giving presentations, having discussions, debating, and negotiating as professionals in the future.
Especially in the skill-focused courses, we will include online homework submissions, such as updating course blogs and uploading presentations and then receiving feedback. The study structure is designed so students can focus more on their studies even outside class.
In order to achieve the goals based on the concept of SFC Education, we strongly recommend you initially take a balance of skill-focused courses and content-focused courses simultaneously and then continue with content-focused courses. (*Please see the class system diagram.)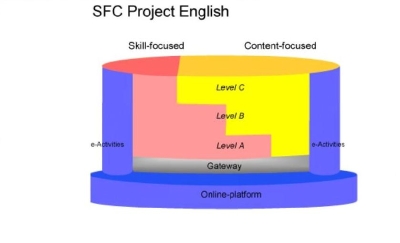 English course syllabuses
The SFC English section has its own online syllabus. We have made the syllabus easier to understand by sorting by course type, instructor, class schedule, and level. Course evaluation methods for each class are also available. Please read through it carefully and familiarize yourself with the contents of the English section website.